Sussex County Sheriff Mike Strada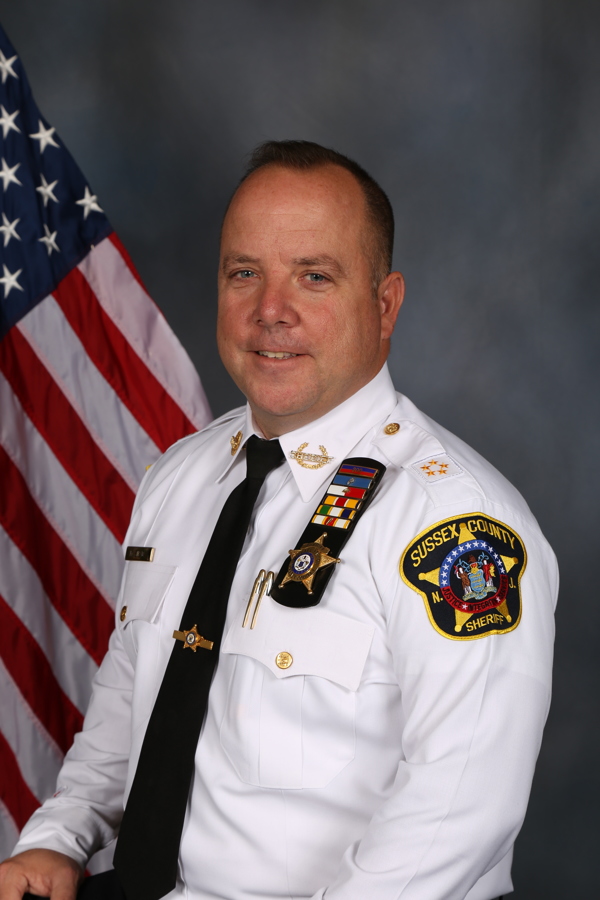 Sheriff Mike Strada, who has been involved in public service all his life, is serving his third three-year term as Sussex County Sheriff.
After graduating high school in 1987, Sheriff Strada enlisted in the military and served for four years as a sergeant with the 82nd Airborne Division out of Ft. Bragg, North Carolina. He is a veteran of Operation Desert Shield and Desert Storm and served in both Iraq and Saudi Arabia. While in the military, he was an explosives expert and assigned to a Parachute Infantry Regiment. During his military career, he was awarded the Southwest Asia Service Medal with two bronze stars, Kuwait Liberation Medal, National Defense Service Medal, Parachutist Badge and the Army Achievement Medal.
After being honorably discharged from the military, Sheriff Strada went on to pursue a career in law enforcement and graduated from the Morris County Firefighters and Police Training Academy in 1993. He began his law enforcement career with the Morris County Sheriff's Office where he was assigned to the Criminal Investigation/Crime Lab Unit. In 1995, Sheriff Strada joined the Mt. Olive Township Police Department and was assigned to the Patrol Division where he served for ten years. In 2005, he moved up to the Investigations Division where he served as a detective for the duration of his tenure with Mt. Olive. Over the course of his career with Mt. Olive, Strada was the recipient of numerous departmental awards including the 1998 Knights of Columbus Shield Award, Morris County 200 Club 2001 Valor Award, three lifesaving awards, four honorable service awards, three meritorious service awards, an educational achievement award and a military service award.
Sheriff Strada has an associate's degree in criminal justice, a bachelor's degree in administrative science from Fairleigh Dickinson University and a master's degree, also from Fairleigh Dickinson, in administration. Law enforcement certifications and training include FBI Police Supervision and Management, Northeast Counterdrug Training Center: Leadership and Mastering Performance Management, Supervision Principles, Police Supervision, Organizational Leadership, and Practical Homicide Investigation. In addition to being a graduate of both the FBI National Academy and the Executive Leadership Program at the National Sheriffs' Institute (NSI), he is also a certified field training officer and police academy instructor.
Sheriff Strada served as President of the Sheriffs' Association of New Jersey and is a member of the Newton VFW, Life Member of the National Rifle Association, Branchville American Legion, New Jersey Italian American Police Officers Association, New Jersey Fraternal Order of Police, and Sussex County Chiefs of Police Association.  Sheriff Strada also serves on the Board of Directors for SCARC.
Sheriff Strada resides with his wife and three children in Hampton Township.