Morris County: Sheriff's Office Detective Lieutenant, A K-9 Handler And
Bomb Technician, Is Promoted to the Rank Of Major In The New Jersey Army National Guard
August 17, 2020/in Media, Press Releases/by Peggy Wright, PIO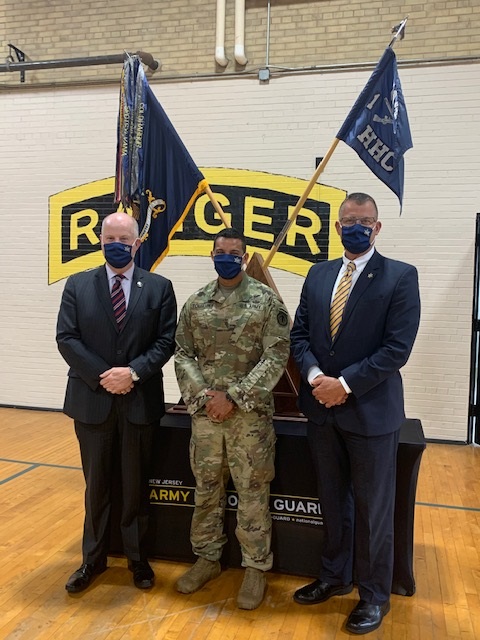 Morris County Sheriff's Office Detective Lieutenant Aaron Tomasini has achieved the esteemed rank of Major in the New Jersey Army National Guard after 18 years of service and deployments to Iraq and Afghanistan.
Major Tomasini was promoted Friday, August 14, at a pinning ceremony at Woodbury Armory in Gloucester County conducted by Colonel Robert Hughes, Commander of the 44th Infantry Brigade Combat Team.
Major Tomasini was joined at the ceremony by his wife, Jen, and their three daughters, and Morris County Sheriff James M. Gannon and Bureau of Law Enforcement Undersheriff Mark Spitzer.
"Major Tomasini has all the qualities of a true leader who is intelligent, humble, fun to be around and family-oriented. He brings integrity, wisdom, courage and immense positive energy to the Morris County Sheriff's Office and dedication to this country through his military service. We are proud to have him here," Sheriff Gannon said.
Major Tomasini, who was promoted from the rank of Captain, now serves as Operations Officer
(S3) for the 1-114th Infantry Battalion, 44th Infantry Brigade Combat Team.
Locally, Major Tomasini is known in Rockaway Township as a member of the Board of Education, a softball coach and a coach for the Rockaway Township Soccer Association, a township Library Board Trustee, and member of the township Municipal Alliance Committee.
He has carved out a stellar career at the Morris County Sheriff's Office, which he joined in July 2005. He was promoted to Detective Sergeant in February 2015 and, under Sheriff Gannon, promoted in September 2019 to the rank of Detective Lieutenant.
In May 2015, he was the keynote speaker at the Morris County Memorial Day celebration at which he delivered a stirring speech that urged Americans to respect and support the nation's servicemen and women.
As a Detective Lieutenant at the Morris County Sheriff's Office, he currently supervises Emergency and Crime Scene Investigation Services that include the Evidence, Crime Scene Investigation and K-9 Sections.
He is a K-9 trainer and handler, a certified bomb technician and a team leader on the Sheriff's Emergency Response Team (SERT).
Decorated and commended for his actions in the Army National Guard, Major Tomasini's responsibilities as a Battalion Operations Officer (S3) will include – in part – serving as chief of operations and training, developing courses of action for the Battalion Commander, overseeing execution of tasks and providing guidance to S3 staff and training guidance to Company Commanders.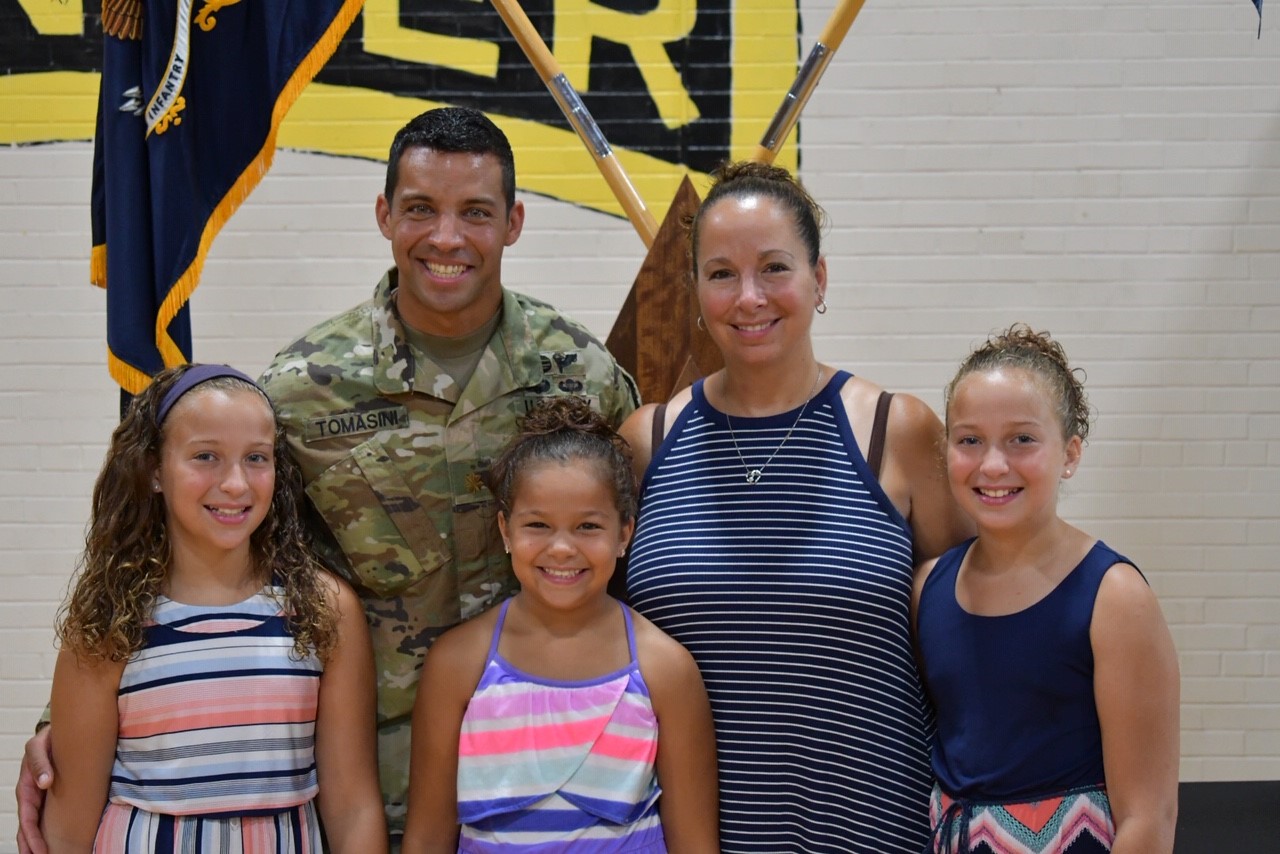 Major Tomasini enlisted in the New Jersey Army National Guard in February 2002 as a 19D, Cavalry Scout and was assigned to Alpha Troop, 5-117th Cavalry in Dover, New Jersey.
As an enlisted soldier and Noncommissioned Officer (NCO), he held ranks of Private to Staff Sergeant. He then began training to become a Commissioned Officer.
Major Tomasini received his commission in 2008 after graduating from New Jersey Officer Candidate School, Class 51. He later was assigned to Charlie Troop, 1-102nd Cavalry.
Since his commissioning, he has held the positions of Platoon Leader, Executive Officer, aide-de-camp, Reconaissance Mentor, Plans Officer and Troop Commander.
National Guardsmen are part of a country-wide operational force that provide strategic depth to the nation's Army and Air Force.
For a downloadable copy of this article, click here: Morris County: Sheriff's Office Detective Lieutenant, A K-9 Handler And Bomb Technician, Is Promoted to the Rank Of Major In The New Jersey Army National Guard